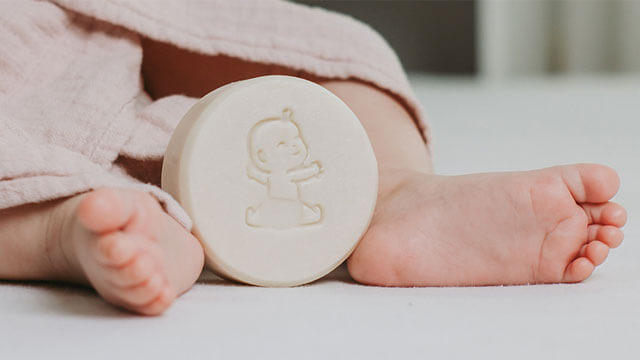 All our product ingredients are natural, of the highest quality and are very carefully selected.
We are proud of that. Just as we are with the products themselves and the overall vision behind our brand.
Each ingredient plays its role in providing the perfect skincare for your toddlers.
That is why we like to be as transparent as possible.
In front of you is a list of EVERY ingredient we use, together with the main reasons why we decided on it.
Alantion
Alantion Increases the desquamation of the upper dead layers of the skin, giving the skin smoothness. It has an anti-irritant and protective effect on the skin because it binds agents that cause irritation, creating inert complexes with them. It works by regenerating skin cells, encouraging their renewal, neutralizing scars and soothing the presence of inflammation. Nourishes skin prone to dandruff.
Aloe Vera
Natural Aloe juice. It comes from the inside of the Aloe leaf. It moisturizes, softens the skin and soothes irritations. Effect: extremely emollient and hydrating. Regenerative, soothing, analgesic, antibacterial, antifungal. Aloe juice forms a transparent film on the skin and prevents the appearance of hyperpigmentation fields.
Oat Amino Acids
A mixture of different amino acids obtained by hydrolysis of oatmeal proteins. It is used to regenerate and hydrate skin and hair. It repairs damaged hair and helps recover irritated skin.
Bisabolol
In nature, it is found as an active ingredient in chamomile. It has a significant calming effect, similar to chamomile oil. It relieves skin irritation and redness. It is active as an anti-irritant and protects the skin from various negative external influences. It helps moisturize the skin. It has an antioxidant effect.
Cetiol C5
A completely natural emollient. It is obtained from the fatty alcohols of coconut. After application on the skin, it strongly accelerates the penetration of vegetable oils, from the surface, into the deeper layers of the skin. It leaves a light and smooth feeling on the surface of the skin.
Zink oxide
It has a high degree of purity and does not contain other metals. It has a soothing effect and can be used on people who have irritated skin.
Distilled water
Water that is free of all impurities - from minerals to pollutants.
St. John's wort extract
A powerful skin care ally. Soothes sensitive skin, nourishes dehydrated skin, protects the skin from negative external influences, has an antioxidant effect, stimulates skin renewal and reduces oxidative stress. It is effective on dry, sensitive, combination, oily and problematic skin. It has been proven to work against acne. It also has healing properties, so it is used in various inflammatory processes, various bacterial and fungal diseases.
Marigold extract
Accelerates skin regeneration, accelerating the process of granulation and epithelialization. Positive effects seen on the skin: emollient, vasoprotective (improves circulation, reduces redness), antiedematous, anti-irritant, antiseptic, antibacterial, antioxidant, promotes granulation and epithelialization of damaged tissue, affects the metabolism of collagen in the skin.
Licorice extract
Has a calming effect on the skin and rejuvenates it. Reduces redness of the skin, has an antioxidant effect. It contains glycyrrhizinic acid, which reduces redness of the skin, has an anti-irritant, anti-seborrheic, antibacterial, emollient effect, and increases skin smoothness.
Oatmeal extract
Known for its beneficial effect on skin. It has the ability to relieve irritation and is traditionally used to reduce itchy skin. The effect it manifests is: emollient, hydrating, anti-inflammatory, anti-irritant. Protects and recovers the skin from the harmful effects of UVA / UVB rays.
Grapefruit essential oil
Accelerates skin regeneration, by accelerating the process of granulation and epithelialization. The positive effects seen on the skin are: vasoprotective (improves circulation, reduces redness), antiedematous, anti-irritant, antiseptic, antibacterial, antioxidant. It has an antifungal, healing effect, helps with wounds, burns, bruises, acne, eczema, cracked capillaries.
Lavender essential oil
Good for soothing irritated and sensitive skin, as well as sunburns. Reduces the feeling of itching from insect bites.
Tangerine essential oil
Also known as the "children's joy oil". It relaxes, cheers up, brings calm and serenity with its aroma. Mild antiseptic and analgesic.
Orange essential oil
It is used for the care of mature and problematic skin. It contains powerful antioxidants that prevent skin damage caused by free radicals.
Geogard ultra
Natural antimicrobial blend. This mixture complies with ECOCERT, WholeFoods and the European REACH regulation. Broad-spectrum preservative. Provides effective protection of cosmetic products.
Glycerin
Obtained from natural substances by hydrolysis of fats and fermentation of sugar. Moisturizes the skin and has a protective effect; reduces irritation and itching. Recommended for the care of sensitive, cracked and hardened parts of the skin, as well as for hair care.
Glucose Sorb
A newer thickener intended for production of modern surfactant formulations. Gentle, mild and non-irritating, but very effective thickening agent.
Angelica hydrolate
For centuries this plant has been know for its beneficial and healing properties and still attracts significant attention from scientific circles. Numerous clinical trials confirm its relaxing and soothing properties. It has anti-inflammatory and antiseptic properties.
Lavender hydrolate
It can be used for care, cleansing and additional hydration of all skin types. Good for soothing irritated and sensitive skin. After application on the skin, it reduces the feeling of itching from insect bites and unpleasant redness. Soothes the skin and cools it.
Tangerine hydrolate
This floral water with a very mild and fresh scent relaxes the body, reduces anxiety and comforts. It acts as a gentle tonic and mild antiseptic.
Hydrosoluble avocado oil
Natural trans - esterified avocado oil. Rich in oleic acid, squalene and essential fatty acids, which are important for the skin barrier itself. Provides skin with smoothness and a certain degree of tonicity.
Cocoa butter
Cocoa butter is an organic, natural fat from cocoa beans. It protects the skin, slows down water loss, forming a barrier protective coating. It creates a strong film on the skin, giving it smoothness. Prevents skin from drying out.
Coco betaine
It is obtained from coconut oil. Very mild surfactant. Does not cause irritation.
Coco glucoside
Coco Glucoside is a natural, nonionic, mild surfactant. It is obtained from vegetable oils and is completely biodegradable.
Colloidal Oatmeal
Soothes damaged and irritated skin. Helps relieve the symptoms of dry, itchy skin.
Xanthan Gum
Anionic polymer of natural origin. It improves the viscosity, volume and stabilizes the foam.
Lanolin
Complex emulsifier. It is obtained by cleaning wool with hot water, and additional purifications to remove impurities. It is used as an epidermal moisturizer, lubricant and emollient.
Sodium chloride
Kitchen salt. It is used as a mineral aid due to its soothing effect on the skin.
Panthenol
Provitamin B5. Leads to cell regeneration. Keeps skin moist and supple. Soothes irritated skin.
Phytocream
UV emulsifier. It is a completely natural emulsifier. It has Ecocert certificate.
Sensocream
Sensocream is a non-ionic O / W emulsifier, 100% plant origin, suitable for a wide range of emulsions with a silky touch and exceptional texture.
Shea butter
Shea butter is made from the nut of the African shea tree. It contains allantoin, vitamins A and E. Nourishes and protects the skin from drying out. Creates a protective film on the skins surface. Very suitable for the care of very dry and atopic skin.
Squalane
100% herbal emollient. Obtained from vegetable sugars. Prevents moisture loss and thus restores skin flexibility. Provides a soft and silky feel.
Sorbitol
Natural polyhydroxyl alcohol obtained from a sugar solution of wheat. Prevents moisture loss. Used as a skin moisturizer. It has skin softening and conditioning effects.
Stearic acid
It is used as an emollient and stabilizer. It provides a soft, waxy, pearly look of the cream and causes a cooling feeling on the skin. Removes impurities, sweat and excess sebum from the skin and hair.
Palm oil
A rich source of tocotrienols, it is rich in α, β, lycopene and vitamin E, which provide protection against the harmful effects of free radicals.
Almond sweet oil
Great emollient. Makes the skin soft and smooth. Nourishing and revitalizing effect, it is a good moisturizer, ideal for irritated and chapped skin.
Jojoba oil
The texture is very similar to the texture of oil produced by human skin. It regulates the production of sebum on the skin, so it is good for the care and restoration of balance to combination skin, as well as for the treatment of acne. On dry skin, it acts as a moisturizer, makes it soft, smooth and restores its healthy glow.
Coconut oil
An excellent emollient that makes skin and hair soft, gentle and conditioned. It creates a protective film that retains moisture, so it is especially suitable for the care of dry and sensitive skin.
Olive oil
It contains vitamins A, D, E and K. Vitamins and provitamins (A and E), minerals such as selenium and phenol. Protects cells from oxidative stress, active oxygen and free radicals. It has excellent nutritional values suitable for skin and hair care.
Calendula oil
Marigold has been used in skin care for centuries. It is an excellent means of recovering dry skin - it helps the skin to regain and retain moisture, and at the same time makes it soft and gentle. It is especially suitable for cracked and damaged skin, as it soothes irritation and accelerates healing.
Castor oil
An excellent emollient that leaves the skin feeling soft and smooth. A good hair conditioner that makes it well-groomed and gives it a great look. It penetrates the pores and attracts impurities.
Grape Seed Oil
It helps regenerate the skin, because it binds to collagen, protects it from free radical attacks and prevents its cross-linking. It strengthens capillaries and arteries. Reduces swelling, improve circulation and accelerate the regeneration of damaged skin. It makes the skin elastic, soft and permeable.
Evening Primrose Oil
A plant that is considered to be the richest natural source of essential fatty acids. It is used for daily care of dry and dehydrated skin, which restores moisture, prevents dandruff and makes it soft and smooth. Accelerates the healing process of small wounds on the skin.
Vitamin E
One of the most commonly used antioxidants. Moisturizes the skin and improves microcirculation in the skin.